Currently under construction in Annapolis, this waterfront home demonstrates the flexibility of design and the quality of construction that is possible using component technologies. The great room is a red oak post and beam timber-framed structure vaulted to an exposed 'Hammerbeam' trussed cedar ceiling. The remaining portions of the house were built using custom panelized components that accommodate the unusual design. Finally, there is a working observatory to house the owner's telescope, which was also designed and engineered by Tech Houses, Inc.

Tech Houses, Inc. a McLean Virginia firm that specializes in designing and supplying the components for upscale custom homes designed the house. The specifications are all above the normal construction standard. Walls are 2X6 construction, not 2X4. Sheathings are all plywood - not chipboard. Floor systems are engineered well above the local building code standards so that they do not shake or squeak.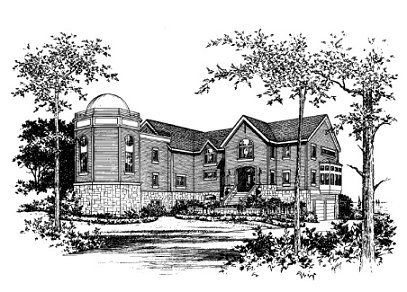 Another unusual aspect to this house is the system under which it was built. Rather than hiring a general contractor, the owners chose to function as their own construction manager.

This management process allows the owner to hire a manager to work for their best interests. Typically the manager is hired for a fixed fee to do most of the work that is normally done by a General Contractor. The difference is that the manager works directly for the homeowner. His obligations are to obtain competitive bids on each item, schedule the selected subcontractor, assure that the workmanship is up to the required standard, and arrange for the owner to pay the sub as the construction progresses.


The advantage to the owner using the construction management process is that the costs are competitively bid out and the owner obtains the savings generated by the competition. Also, the owner can have the opportunity to interview and be part of the selection process. The owner has the ability using Construction Management to be as involved as he or she would like. Finally, the owner makes the payments, which assures that the funds are actually going to the intended subcontractor.


Tech Houses, Inc has been involved throughout the project on a continuing basis, helping with suggestions, choices, and even obtaining bids on behalf of the owner. It has been a complimentary working relationship that has allowed the owner to proceed at their pace and have full input into the myriad of choices that are available.